X-Rays
---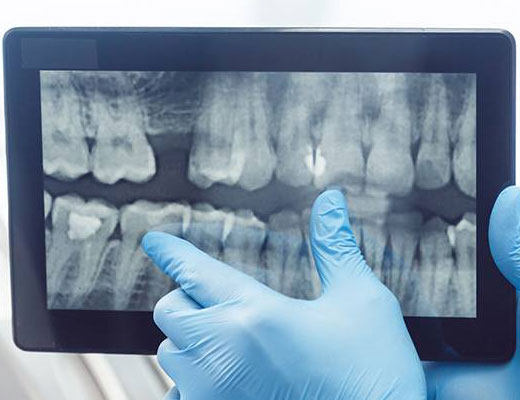 Miramar Smiles Dentistry offers dental X-rays in Miramar, Fl for patients who need them. Dental x-rays are needed in a variety of situations. When they are, you want to be sure you're getting the right kind of X-ray, as well as the right number of X-rays. Remember, your dental X-rays may be used for a number of reasons, by many different dental professionals. They also become a part of your dental record. So it's good to be aware of the various kinds of X-rays available to your dentist, as well as the reasons for getting them.
Types of Dental X-Rays
X-rays are an essential tool that your dentist uses that enables the dentist to provide the best possible treatment. At Miramar Smiles Dentistry, we utilize the most recent technology so that we can ensure a higher quality of care than a dental patient may be able to get elsewhere. In particular, we offer 3C CT X-rays, which are considered the best and most premium type of dental X-rays currently available.
3D CT X-Rays
Much the way a medical CT scan works, a 3D CT dental X-ray reveals a 3-D image of the skeletal bone and tissue, all within the span of a few seconds of exposure. CT is simply an acronym that stands for "computed tomography." CT scans, as well as 3D CT X-Rays, are considered the gold standard in dental X-ray technology. Miramar Smiles Dentistry offers 3D CT X-Rays in Miramar, FL. These types of X-rays are particularly invaluable in assessing and monitoring bone loss in dental patients.
With 3D CT X-Rays, a 3D image is captured of the area—usually the mouth and/or jaw bone—which enables the dentist to study what's going on in detail. The 3D image can be divided into slices, allowing the dentist to get an unprecedented look and make dental treatment decisions based on findings.
Digital X-Rays
Digital X-ray technology as compared to traditional X-rays is similar to the difference between regular cameras and digital cameras. Instead of the image being transferred to film, the image captured from a digital X-ray machine is transferred directly to a computer. The process is driven in a computerized fashion, as well. Digital X-rays in Miramar are still commonly used, since a 3D CT X-ray is not always needed. At Miramar Smiles Dentistry, we're sensitive to the needs of our patients. We have the latest and greatest X-ray technology, but we understand that there are times when certain types of X-rays are needed, and times when they aren't.
Note that, with either of these technologies, it's possible for our patients to view the dental X-rays, as well. Our dentists are more than happy to show you exactly what we found in the X-ray so that you can see for yourself what's going on.
Situations Where Dental X-Rays in Miramar, FL May be Needed
Dentists and specialty dentist professionals use X-rays for different reasons, including for diagnostic purposes, for detection purposes, to follow up with progress after certain dental procedures, to monitor dental health, to evaluate bone density and the health of the jaw bone, to help guide treatment decisions and more. If you ever wonder why your dentist is recommending that you get dental X-rays, you should ask. At Miramar Smiles Dentistry, we like our dental patients to be well-informed and as much a part of the treatment as makes sense. To that end, here is some information about situations where dental X-rays may be needed:
Routine Checkups – X-rays are often taken as part of regular dental checkups to detect any issues that may not be visible during a visual examination, such as cavities between teeth.
Dental Pain or Discomfort – When a patient experiences dental pain, X-rays can help identify the source of the problem, such as tooth decay, infection, or a cracked tooth.
Preventive Care – X-rays can be used as a preventive measure to catch early signs of dental problems, allowing for timely intervention and treatment.
Orthodontic Treatment – Orthodontists use X-rays to assess the alignment of teeth, jaw, and facial structure, helping to plan orthodontic treatments like braces.
Tooth Extractions – X-rays help with evaluating the position and condition of teeth before extraction, especially for impacted wisdom teeth.
Dental Implants – Prior to dental implant surgery, X-rays are taken to assess bone density and determine the best placement for the implant.
Gum Disease – X-rays can reveal the extent of gum disease, including bone loss around teeth, which is critical for treatment planning.
TMJ Disorders – TMJ (Temporomandibular joint) X-rays help diagnose and manage TMJ disorders, which affect jaw function and comfort.
Root Canal Treatment – Dentists use X-rays to locate the position of tooth roots and identify the extent of infection before performing a root canal procedure.
Trauma or Injury – In cases of dental trauma, X-rays are essential to assess fractures, dislocations, or damage to the teeth and surrounding structures.
Oral Surgery – X-rays are a crucial part of planning and executing oral surgeries, including wisdom tooth removal and jaw surgery.
Dental Restorations – X-rays help dentists assess the fit and integrity of dental fillings, crowns, and bridges.
Evaluation of Growth and Development – In young patients, X-rays can assist in tracking the growth and development of teeth and jaws.
Occlusal Analysis – X-rays can provide valuable information about the patient's bite (occlusion), helping to identify issues like malocclusion or bite misalignment.
Implant Maintenance – After dental implant placement, regular X-rays may be taken to monitor the health of the implant and surrounding tissues.
Assessment of Oral Pathologies – X-rays are essential for diagnosing oral pathologies, such as cysts, tumors, or other abnormalities in the oral cavity.
Dental professionals use X-rays judiciously. At Miramar Smiles Dentistry, we only do X-rays when they are needed for the best dental care. For the most advanced dental X-rays in Miramar, FL, including 3D CT X-rays and digital X-rays, contact us today.