Cosmetic Dentistry
---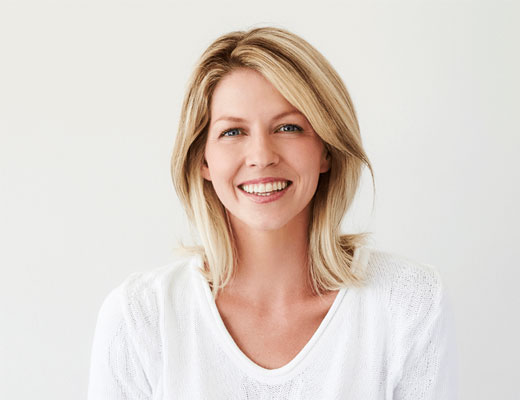 Miramar Smiles Dentistry is your destination for top-notch cosmetic dentistry services in Miramar, FL and the surrounding area! With our dedicated team of dental professionals, not to mention our trusted services, we're considered one of the leading dental practices in the great state of Florida. We can make your dental dreams come true!
Learn more about our cosmetic dental offerings below:
Porcelain Veneers
Porcelain veneers can drastically improve the appearance of your smile. Made of porcelain, these dental solutions consist of custom-made shells that fit over the front surface of your teeth. Veneers cover imperfections, such as stains, chips, cracks, and other problems.
How the Process Works
Getting porcelain veneers is a relatively simple and straightforward process. First, the dentist must prep the tooth by removing some enamel. This will roughen up the tooth to help the veneers stay in place. Next, the provider takes impressions of the tooth to design your custom veneers. You'll then have to wait a few weeks for the veneers to be made. If necessary, you may receive temporary veneers until the final restoration is complete. Once the permanent veneers arrive, you'll have another dental visit for the placement, which involves using a special dental cement.
Dental Bonding
Dental bonding involves a material that's added to teeth to eliminate an imperfection. Whether you have chips, gaps, stained, or discolored teeth, dental bonding is a great solution. This process consists of a tooth-colored composite resin that's applied to your teeth. This material is then smoothed and shaped for your comfort and functionality. Bonding can change a tooth's color, shape, or size.
What to Expect
The dental bonding process starts by first matching the resin color to the shade of your teeth. Once you decide on the best option, the dentist will prep the tooth's surface. This involves roughening it up to help the material stick more effectively. The provider will also add a conditioned gel to aid in the sticking process. Next, the resin is applied, followed by some adjustments made by the dentist. The material is shaped, molded, and smoothed to your liking. Then, a curing light is used to help the resin bond to the tooth. Lastly, the dentist will make any final adjustments, followed by polishing.
Teeth Whitening
Professional teeth whitening is a service that has become very popular in recent years. The process involves adding a whitening material to your teeth to improve their appearance. While there are at-home whitening products you can try, many patients will tell you that in-office teeth whitening is more effective. Also, the results are extremely fast!
Hydrogen peroxide and carbamide peroxide are the two main products used in professional teeth whitening. The whitening agents in these products actually weaken tooth stains on a molecular level with the help of oxygen molecules.
How the Process Works
Professional teeth whitening starts with an exam to determine your needs. From there, you and your dentist will determine the right treatment plan. This typically involves multiple whitening appointments.
During your first teeth whitening visit, the dentist will use a tooth shade chart to find out the current shade of your teeth. Your dentist will then show you how much whiter your teeth can become after treatment.
The next step involves using a pumice tool to remove any plaque and polish the tooth. The professional will then use special tools to keep your mouth open. This protects your cheeks, gums, and tongue.
Next, the whitening agent is applied and left on for about an hour. A light activation process may also be used. Once the time has passed, you'll rinse your mouth and check out the results. You and your dentist will then discuss the next steps, such as what you can eat or drink for the next 24 hours. It's important to allow adequate time for the whitening agent to sink into the enamel.
Want to learn more about professional teeth whitening? Thinking about booking an appointment? Whatever the case may be, our team is here to help. Call us today for reliable cosmetic dentistry services in Miramar, FL!
White Fillings
Fillings used to always be made with metal, but they're now designed with tooth-colored materials. Various materials are used, but these fillings typically consist of glass particles, synthetic resin, and a setting ingredient.
Appearance is the main reason to choose these fillings over the metal alternative. If you're worried about the look of a metal filling, white fillings are a great choice. Not only are they tooth-colored and less noticeable, but they're also very strong. In fact, their durability is comparable to that of metal fillings! However, the lifespan of your filling depends on several factors, such as the location of the tooth, your dental hygiene habits, and more. All in all, white fillings are a less noticeable, trusted way to keep your teeth healthy!
Invisalign
Invisalign has drastically changed the orthodontic and dental industries. This treatment involves the use of clear, plastic aligners that move your teeth over time. Unlike bulky metal braces, Invisalign features removable trays that fit over your teeth. The aligners must be removed before eating, brushing, and flossing, making the device much less of a hassle compared to braces! Furthermore, the results are speedy. In fact, depending on your needs, the entire treatment plan may last as little as six months!
To get started with Invisalign, a dentist must determine if you're a good candidate for the treatment. If you're the right fit, the process starts with taking impressions of your teeth using a high-tech scanner. Then, this information is sent to an Invisalign lab, which is where the clear aligners are made. Once the trays are complete, you'll have another office visit to try them on and discuss more about the treatment plan.
Miramar Smiles Dentistry is here to provide exceptional cosmetic dentistry services in Miramar, FL! With our knowledgeable team and comfortable office, you're always in good hands with us. Make an appointment today!